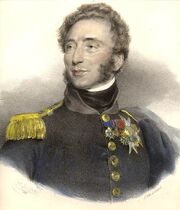 Le plus méconnu des rois de France ? En tout cas le 'règne' le plus bref entre l'abdication de son père Charles X et sa propre signature vingt minutes plus tard le 2 août 1830 au château de Rambouillet.

Né le 6 août 1775 à Versailles, Louis Antoine de Bourbon-Artois est le fils de Charles, comte d'Artois, petit-fils de Louis XV et frère de Louis XVI dont il est donc lui-même le neveu.
Ad blocker interference detected!
Wikia is a free-to-use site that makes money from advertising. We have a modified experience for viewers using ad blockers

Wikia is not accessible if you've made further modifications. Remove the custom ad blocker rule(s) and the page will load as expected.